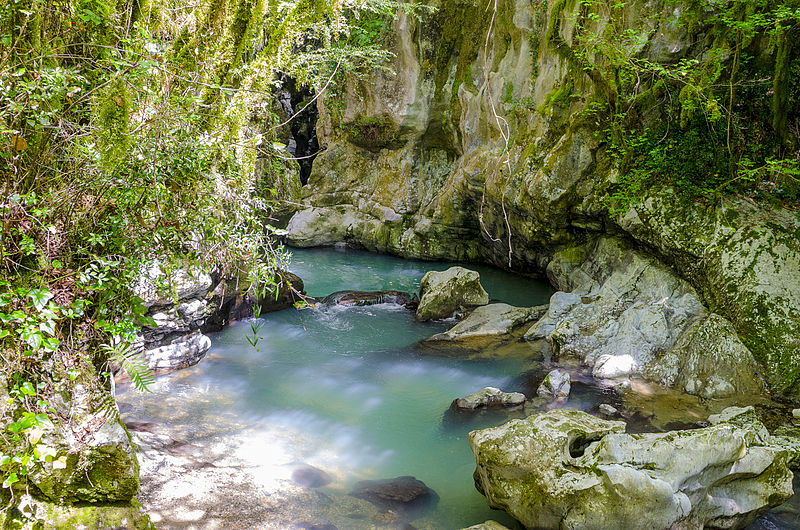 Who said that you go on holiday only in the summer? Autumn colors, the Christmas atmosphere of December and the events that are planned in 2018 – from Carnival to Easter – are a wedding invitation for real traveler who can find his or her ideal strategic landing point in Palinuro, at the Baia del Silenzio.
Anyone who loves to travel knows that every opportunity is good for getting to know new spectacular places, new people, and new flavors. Cilento fully responds to this identity. It is all too easy to imagine this land in the middle of summer, when it is kissed by the sun and bathed by a splendid sea.
Visits to Cilento Park and WWF Oasis
Try looking at these places from a different perspective. Let us take autumn as an example. What better than a hike in the Cilento National Park or in the WWF Cave of Bussento? The climate tends to be mild, the spectacle offered by the Mother Nature is unique.
Trekking in the woods during this period is something that cannot be described in words: yellow, reddish, green and brown hues create real masterpieces. And you are at the center of this work of art, ready to immortalize it. And then the waterfalls, the rivers. Well yes, here you can also go rafting or just birdwatching.
Autumn flavors: not only chestnuts
There are plenty of opportunities to recharge the batteries or, better, to fill up with energy with the Cilento's delicacies. In Felitto, for example, the event "Autumn Flavors" is a special occasion to discover an interesting historical center as well as, of course, to taste the traditional Fusillo Felittese. The event, promoted by the Pro loco of Felitto, now in its 11th edition, is scheduled from Friday 26th to Sunday 28th of October 2018.
But what is good at the table? Cavatelli with chestnut flour, the autumn version of Fusillo Felittese (with porcini mushrooms and sausage), sfrionzola, roasted chestnuts, local pizza, desserts, wine and other autumn delicacies. It will be possible to taste all these specialties also on Sundays lunch.
If instead you prefer to eat chestnuts till you can't eat anymore, well… there is only to choose from. Several municipalities organize themed events.
In Sicignano degli Alburni – to see the castle – there is a festival around the middle of October. A Chestnut Festival is also organized in Stio Cilento (this year the appointment is from Friday 19th October to Sunday 21th October 2018) and in Buonabitacolo, from Friday 26 October to 27 October 2018 (where among other things it will be possible to listen to ethnic music and traditional songs performed by local young people using instruments typical of Cilento).
The archaeological parks: Paestum, Athena Lucana, Elea-Velia
The food and wine events also dominate the scene in November, but if you have chosen to visit the Cilento in this period of the year, take advantage of it to make the full of culture in a land rich in history.
Free entrance in Archaeological Area of Paestum, to the Archaeological Museum of Athena Lucana, to the Archeological Park of Elea-Velia, at the National Archaeological Museum of Paestum.
Christmas markets
Even the Immaculate Conception national holidays and the Christmas holidays offer a fair "excuse" for visiting these places. Christmas markets give a good reason to organize a trip for example in Castellabbate, one of the most beautiful villages in Italy, or Camerota, Sapri, Atena Lucana, Castelnuovo Cilento or Casal Velino (only to name a few).
It's the same old story: music, entertainment, crafts and gastronomic specialties. In Cilento you will also enjoy top-quality art cribs. You find them everywhere: in towns, in cities, in squares, and in churches.
The allegorical wagon parade of Agropoli
And for Carnival? Appointment at Agropoli: the association The Carro is already working to organize allegorical wagon parades. But these days, other interesting events will also be organized, especially for the joy of children.
Possibility of having fun with the carnival events and the unforgettable parades of allegorical wagons in Palinuro and Marina di Camerota. Fun is guaranteed.
At Resort Baia del Silenzio apartments are all year round
If you are looking for a place to stay, no problem: even if the village (and its services) is closed, even at this time of year we have the possibility to accommodate and host you. Just like this, you're right: the Baia del Silenzio Resort is ready to welcome you even in the winter months in its panoramic sea-view apartments.
Winter accommodation offers, included in the quota, these comforts and conveniences:
– Free parking within a walking distance from the residence;
– Autonomous entrance;
– Spacious solarium terrace overlooking the sea equipped with table, chairs and 2 deckchairs/loungers;
– Fully equipped kitchen;
– Oven, fridge and barbecue (on request);
– Television;
– Heating;
– Double bathroom (with shower, washbasin, toilet, bidet);
– Consumption (water, electricity and gas).
We will agree the check-in and check-out time at the time of booking. You can also bring your pets, of course. Wi-Fi is free. While other services are available only during the opening period, from May to September. But this would not be a problem.
Everything at your fingertips
And you know why? Just a few steps away from our Resort, reachable on foot, you will find the farmhouse Valle di Marco with its exquisite local cuisine. At 500 meters you will find both a Bar/Tobacco/Newsstand and Pharmacy, while a little further you can enjoy the beauty of the white beach "Le Dune".
In any case, within 4 kilometers range – in the medieval village of Pisciotta and Palinuro – there are several shops, restaurants and supermarkets.
By the way, you can also count on us also for advice on itineraries, initiatives and visits to do in Cilento. We are also available for renting cars, scooters or bicycles.
Your headquarter to discover Cilento
So, all you have to do is book and leave. The Resort Baia del Silenzio not only offers comfortable apartments, but is also strategic. It is your headquarters to start the discovery of the most authentic and genuine Cilento, far from the great tourist flows but always able to offer interesting ideas for a regenerating and fun stay.
To make the idea clearer, we provide you the distances between our Resort and the main destinations in the area:
– Pisciotta Train Station – Palinuro 2 km
– Centre of Pisciotta 4 km
– Marina di Camerota 15 km
– Paestum 75 km
– Certosa di Padula 350 km
– Sorrento/Amalfi 200/180 km
Find out in detail the prices and services of the apartments or contact us by filling out the form below.